A visit to the dentist is one appointment you might avoid. But in Nepal, people are walking up to eight hours for the opportunity to access basic health care.
---
More than half the population lives under the poverty line in Nepal (Asian Development Bank, 2009). Free health care is unavailable — as a result, many people live with chronic pain and medical conditions that are rarely seen in developed countries.
As an Anaesthetic Nurse, Lisa Kiddle knew she could help.
"During my initial visit to Nepal in 2007 with the Fred Hollows Foundation, it was obvious that people in remote villages lacked the means to access even the most basic of surgeries or dental care," Lisa said.
"The desire to go back and do something tangible was overwhelming."
So she did. Just one year later, Lisa had convinced a group of medical professionals to volunteer their expertise, pay their own way to Nepal, and raise money to conduct a free surgical and dental camp.
She didn't know it yet, but Lisa had just become the Co-founder of what's now known as Ausnep — a registered tax-deductible charity dedicated to providing free dental work and life-changing surgeries to people living in remote regions in Nepal.
Above and beyond medical care
To this day the camps are self-funded by medical professionals who also volunteer their time and expertise. The last trip in Deurali included two general surgeons, two anaesthetists, and registered nurses.
The going is tough. They work in cramped and difficult conditions — there's no running or hot water, and little infrastructure in the remote regions they travel to.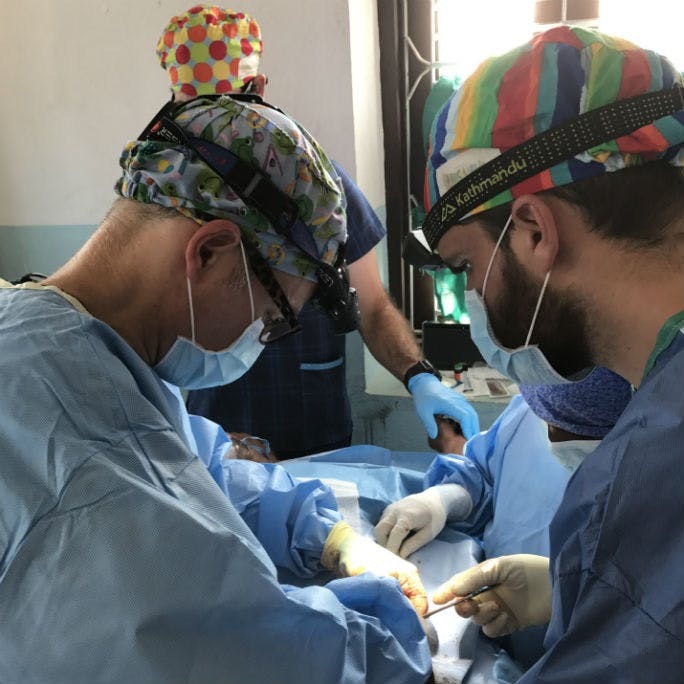 "Day one — they are pretty overwhelmed by the facility we are working in, the setting up and the conditions, let alone the magnitude of the patient's condition … They [the patients] have lived with these conditions for so many years … these cases are so much more complicated and difficult and take so much longer," Lisa said.
"By mid-afternoon on the second day — you see the team adapting, keeping things that we can utilise for something else. By day three, we are a well-oiled team."
Despite the challenges, the team provided 483 dental treatments and 30 surgeries in just five days.
Life-changing impact
Lisa says they're motivated to make the biggest difference in the limited time they have.
"There are people that have walked up to eight hours or caught a bus for four hours for the opportunity of free surgery. Being there, seeing the chronic conditions that these people live with, where they live, how hard they work, how little they have, how happy they are to get free treatment – motivation is not a problem."
To date, Ausnep has provided free treatment to nearly 6000 patients, including orthopaedic, reconstructive, general, gynaecology surgeries, and dental treatments. They have also provided immediate relief in the aftermath of the 2015 Nepal Earthquake.
"I come back to Australia and hear people complain, that their air con isn't working, or they have to wait in a queue for a few minutes…and I have just spent time in a city, that can have power shedding for up to 16 hours per day, water for a few hours a day, a room that has no running water — sharing a small toilet with maybe three or four other families, and yet my patients smile, share and care.
"On the last day of each camp, I always feel so overwhelmed, so grateful, well — very, very emotional really. I really am lucky to be in this position to do this."
---
---