Where are the best hikes in the Northern Territory?
---
Caution: before any hike, always check relevant park management websites for updated information on track conditions, closures or dangers.
Some of the below hikes may have been affected by bush fires and may be closed for hikers. Please help those affected by fires by donating to The Red Cross, who work to provide aid during an emergency, conflict, disaster or crisis.
In Australia's enigmatic Northern Territory, desert mountain ranges, thundering waterfalls and vast floodplains abound. The region might be known for its extreme heat, monsoonal weather and surplus of crocodiles, but with 24 national parks and 73 nature reserves, conservation areas, historical reserves and marine parks, it should come as no surprise that this northern pocket of Australia is also home to some of the country's most exciting hiking tracks. And we're not just talking about the Larapinta Trail. Sure, everyone's heard of this world-famous 223km journey through the heart of the red centre, but there are so many other Northern Territory hikes that are worth your time. Here we'll explore just some of them.
Kings Canyon Rim Walk
Features: one-way circuit trail with a steep ascent of 1,000 steps to start. Sandstone walls, red rock, a deep gorge and steep drops.
Rating: moderate to difficult.
Length/Time: 6km, 3.5 hours.
When to go: all year, however, on days hotter than 36 degrees Celsius, you must start the hike before 9am to ensure you avoid hiking in the hottest part of the day.
Child-friendly: young children may struggle with the steep ascent at the beginning of the hike. If this is a concern, the 2.6km Kings Creek Walk is a better option. If you do hike the Rim Walk with young children, be sure to keep them close as there are some sharp drop-offs at the top.
More information: visit the NT government's website to find out more about this trail, or discover shorter walks in the area.
One of the best single-day Northern Territory hikes, don't let the distance fool you: this multi-layered trail through Watarrka National Park is no...well...walk in the park. Kings Canyon Rim Walk pairs a steep summit climb with that stereotypical NT heat, but if you are fit enough to make it up the initial ascent from the car park, this trail is magic.
Clearly marked with blue arrows, the trail slowly traces King Canyon's rim, with ample lookout points showcasing the very best of this desert landscape. You'll also pass awe-inspiring rock formations, such as a sea of sandstone domes known as the 'Lost City' that sit like sentinels above the canyon. Perhaps the highlight of this trail is the optional side excursion down to the Garden of Eden. Accessed via a well-maintained staircase (yes, more stairs), the Garden of Eden is a waterhole surrounded by red rock and rare plants, including the world-renowned cycads, a protected prehistoric plant that dates back 270 million years and is native to this area and near Alice Springs. However, be sure only to admire this site with your eyes and resist the urge to go for a dip: due to the sensitive nature of the area, swimming is not permitted.
To complete the circuit, continue along the other side of the canyon back towards your starting point. As what goes up must come down, there's another steep descent here back to the car park. However, there's no need to rush: not only will taking it slow protect your knees, but it will give you one last chance to cast an eye over this truly remarkable landscape.
Kakadu National Park
Features: billabongs, sandstone rock formations, waterfalls, rock-art and steep cliffs.
Rating: trails range from short, easy walks to difficult, more challenging hikes.
Length/Time: varied distances.
When to go: most trails are accessible all year round, but the Dry season provides the most comfortable weather.
Child-friendly: Yes, dependant on trail selected.
More information: Find out more about each of Kakadu's many hikes on Kakadu's website.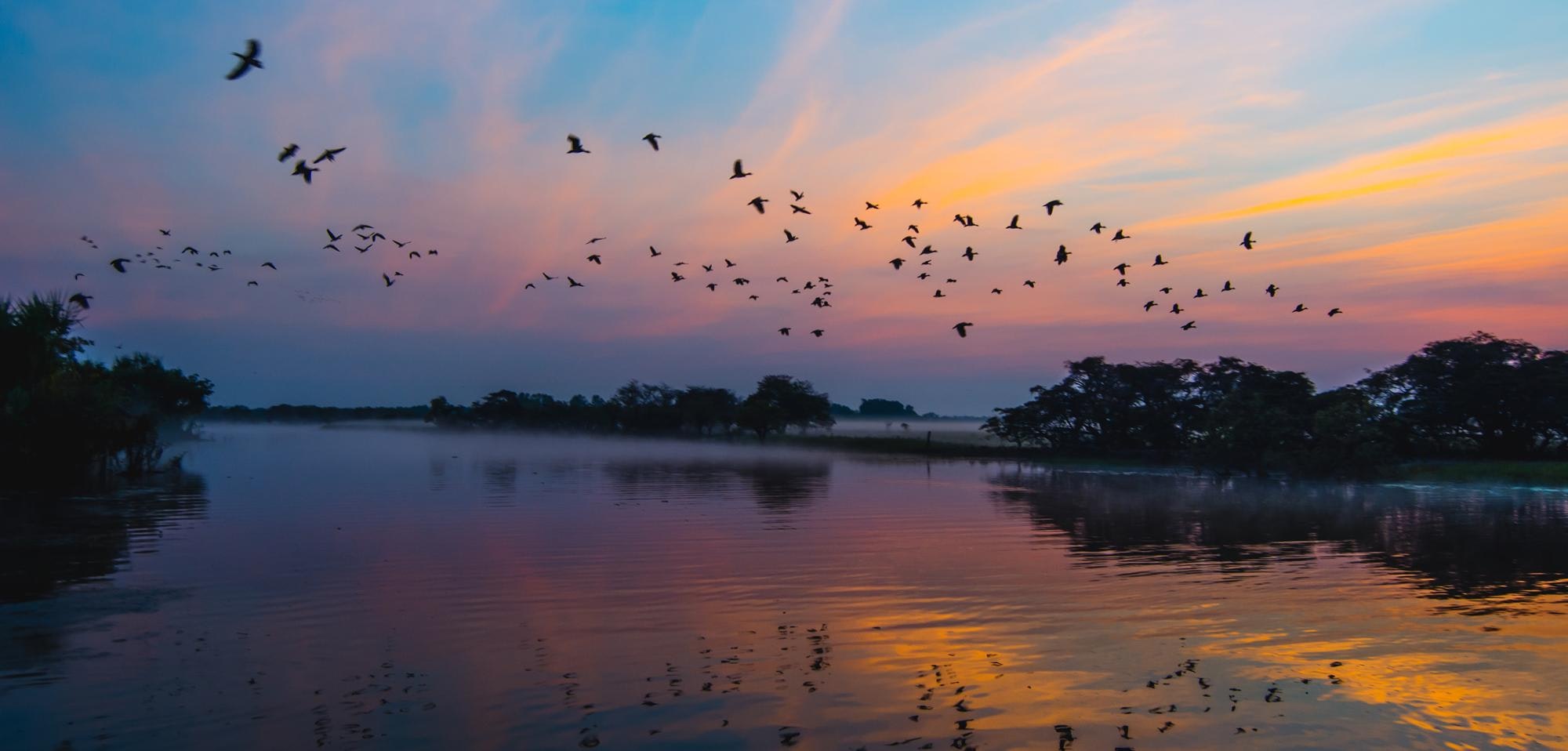 As far as Northern Territory hikes are concerned, it's too hard to pick one from the many within Australia's famous Kakadu National Park. Basically, this entire World Heritage-listed national park is one giant playground, consisting of unique biodiversity, indigenous sites of cultural importance and, of course, numerous hiking trails along which to discover the park's almost 20,000 square kilometres of natural beauty.
Despite the vast size of the park, there are no official overnight walks. Those who wish to explore the inner depths of Kakadu will need to secure a permit, which can only be obtained by submitting an application that includes details of your proposed walking route, the location of each night's campsite and a detailed and accurately marked topographic map. It's a bit of a process, but those up to the challenge will be rewarded with a truly special experience. Kakadu houses an estimated 15,000 rock-art sites, as well as around one-third of Australia's bird species. Most importantly though, the belly of Kakadu is one of the few places left in the world where you can truly experience the sacred isolation of the wilderness.
The park also offers about 25 marked day walks, most of which are based around water sources. Some of the best options include the 7.5km Motor Car Falls walk, which allows you to cool off in a large waterhole bookended by a stunning waterfall, and the 12km Barrk Sandstone walk, which traverses Nourlangie Rock to access some impressive rock-art sites.
Jatbula Trail
Features: termite mounds, exposed rocks, yellow grasses and tall speargrass, waterfalls, rivers and streams.
Rating: moderate to difficult.
Length/Time: 66km, 5-6 days.
When to go: the best time of year is from 1 June to 30 September, when the days are typically cooler and drier. It is possible to hike this trail outside of this period, but special permission is required by writing to jatbula.trail@nt.gov.au.
Child-friendly: due to the length and challenging nature of this hike, it is not recommended for young children.
More information: visit the NT government's website to find out more. Alternatively, discover shorter, more child-friendly hikes in Katherine Gorge and Nitmiluk National Park.
Since many travellers to the Northern Territory include a trip to Katherine Gorge in their itinerary, Jatbula Trail is well placed for those keen to escape the area's tourist core. This five to six-day hike begins at the mouth of Katherine Gorge and snakes along the Arnhem Land escarpment, weaving its way through the territory's signature grasslands and red rocks while providing access to some wonderfully secluded outback destinations.
Due to the intense heat in this region, the key to this trail is to start hiking every day around dawn to ensure you make it to your next campsite by midday. These campsites, which are all spaced between 11km and 16km apart, are little oases, reserved exclusively for the use of Jatbula Trail hikers. As such, only those who venture along this path will be able to enjoy camping on the edge of the 30m-high 17 Mile Falls, or next to the mirror-like waters at Sandy Camp. Each day of hiking ends at a water source, be it a stream, waterfall or lagoon-like section of the Edith River, meaning that once a hiker reaches the camp, they have a cool pool of water in which to escape the hottest part of the day.
Another highlight of this NT hike is the Amphitheatre. Situated about an hour before 17 Mile Falls, the Amphitheatre is a shaded gorge housing one of Nitmiluk National Park's finest Aboriginal rock-art sites, with ochre images of the Jawoyn people and emus clearly visible (it goes without saying, but look, don't touch).
Perhaps one of the best things about this hike is that access is limited to 15 walkers every day. This means you are guaranteed that certain serenity you can only find in the far reaches of Australia's Top End. It also means that you'll need to book your place in advance, which you can do online. If hiking independently, camping fees are $3.30 per adult/night and $1.65 per child/night. However, tour companies also offer guided hikes if required.
Tabletop Track
Features: savannah woodlands, creeks, scenic waterfalls and pools.
Rating: moderate to difficult.
Length/Time: 39km, 3-5 days.
When to go: the best time of the year is during the Dry season (May to September). During the Wet season, a permit is required.
Child-friendly: young children may struggle with the length and nature of this hike.
More information: visit the NT government's website for more information, or discover many shorter walks in Litchfield National Park.
If you're partial to a roaring waterfall, then the Tabletop Track is for you. Situated within Litchfield National Park, the trail provides access to many of the park's most popular falls, with cascades of water essentially bursting free throughout the Tabletop Range. While the falls themselves are routinely visited by day-trippers, the trail allows you to also appreciate the tranquility of this region.
The Tabletop Track consists of three main sections, which can be done independently or together as one spectacular circuit walk. Section one takes you from Wangi Falls to Walker Creek, with this 18.5km trail offering stunning views as you follow to the palm-lined creek to Tjenya Falls before making your way through open woodland to Walker Creek. Day two will see you walk 12.3km to Florence Falls via unusual sandstone formations and surprisingly lush forest. The final section is the longest stretch, winding 19.7km back to Wangi Falls via the paperbark and pandanus-lined Wangi Creek.
With car parks at Wangi Falls, Walker Creek and Florence Falls, the choice is yours as to where you begin your hike. You could also start and/or end your walk at Greenant Creek, as this link track provides access to the picturesque Tjaetaba Falls plunge pool, but it also adds another 6.3km to the track. On that note, it is important to note that the 39km trail length refers only to the circuit itself, and doesn't take into account the access tracks to car parks and campsites. For instance, beginning at Wangi Falls will add 1.2km, Walker Creek 1.9km and Florence Falls 0.8km. Wherever you start though, be sure to keep a constant eye out for the trail's blue markers, as the lack of obvious features along the trail means it can be a little hard to navigate if you are an inexperienced hiker.
Larapinta Trail
Features: metamorphic and igneous rock, flood plains, canyons and 600 species of rare desert flora.
Rating: difficulty varies throughout the 12 sections, but if attempting the entire trail, this is a challenging hike.
Length/Time: 223km, 13-15 days
When to go: the best time to attempt this hike is from April to August.
Child-friendly: not recommended.
More information: visit the NT government's comprehensive guide to the Larapinta Trail.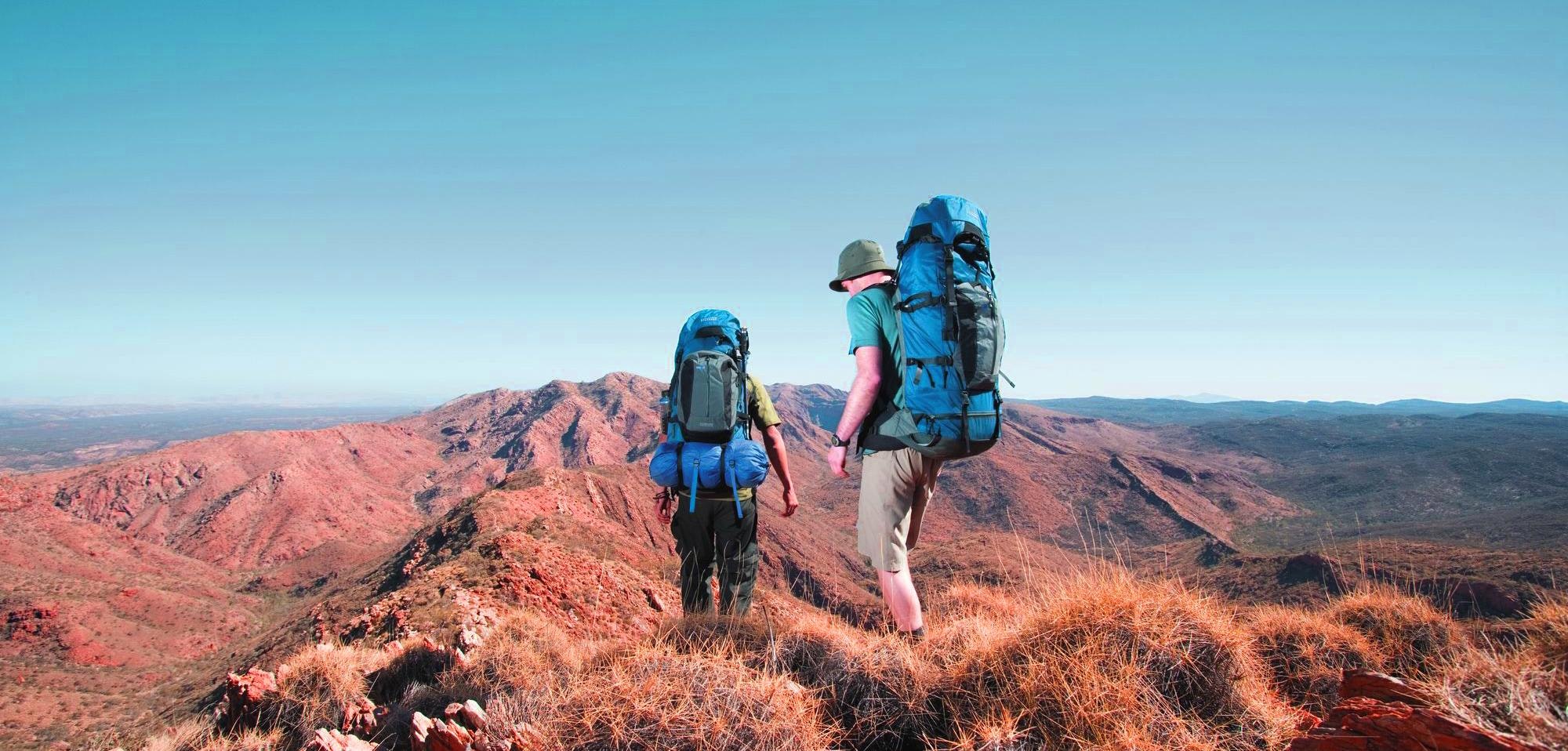 We couldn't not include the Larapinta Trail. After all, it's iconic for a reason. This 223km trail consists of 12 sections, taking you from the Alice Springs Telegraph Station to Mt Sonder via some of the most dramatic scenery the Top End has to offer. You'll trace the ridgeline of the West MacDonnell Ranges, plumb the depths of some spectacular canyons and make your way through Simpsons Gap: a red rock passage that shelters an inviting waterhole.
While many of the campsites along the way are free, fees do apply to Ellery Creek Big Hole ($5 per person), Ormiston Gorge ($10 per person) and Redbank Gorge ($5 per person). Do carry the correct money as change cannot be provided. Each campsite provides picnic tables and tent sites, with a water supply at each trailhead. Ellery Creek and Ormiston Gorge also offer food storage services, so if you don't wish to carry 12 days' worth of food with you, you can organise food drops at these sites for $10, with a refundable $50 deposit also required. Be sure to label your food dropbox with your name, the date and your intended pick-up date, noting that unlabelled food containers will be removed after 14 days.
If you don't have the time or inclination to tackle the entire Larapinta Track, don't worry. The trail's 12 sections have been designed to ensure each trailhead can be accessed by 4WD, enabling hikers to join and leave the trail whenever they like. While each section is spectacular, those pushed for time should prioritise the one-day section from Serpentine Gorge to Serpentine Chalet Dam, which provides panoramic views following a steep climb, or the six-day out-and-back section from Redbank Gorge to Ormiston Gorge, which allows you to explore many of the sidewalks based around Ormiston Gorge. Regardless of how long you have to spare, your time is always well spent on the Larapinta Trail.
Find footwear for your next hike...
---