Beginner's guide to a snow season in Japan
Caitlin See is an avid snowboarder and regularly travels to Japan in search of experiencing first tracks — but lacks the discipline to wake up that early.
---
Japan is fast becoming one of the most popular destinations for snow lovers everywhere, after its fall from grace in the late 90s. Visitation levels to the country's 500+ ski fields reached a feverish pitch in the late 90s before the burst of Japan's economic bubble saw visitation levels to ski resorts nearly halve up to 2011. But the past decade has seen things shift again towards an upswing as Japan embraces a huge spike of international tourism.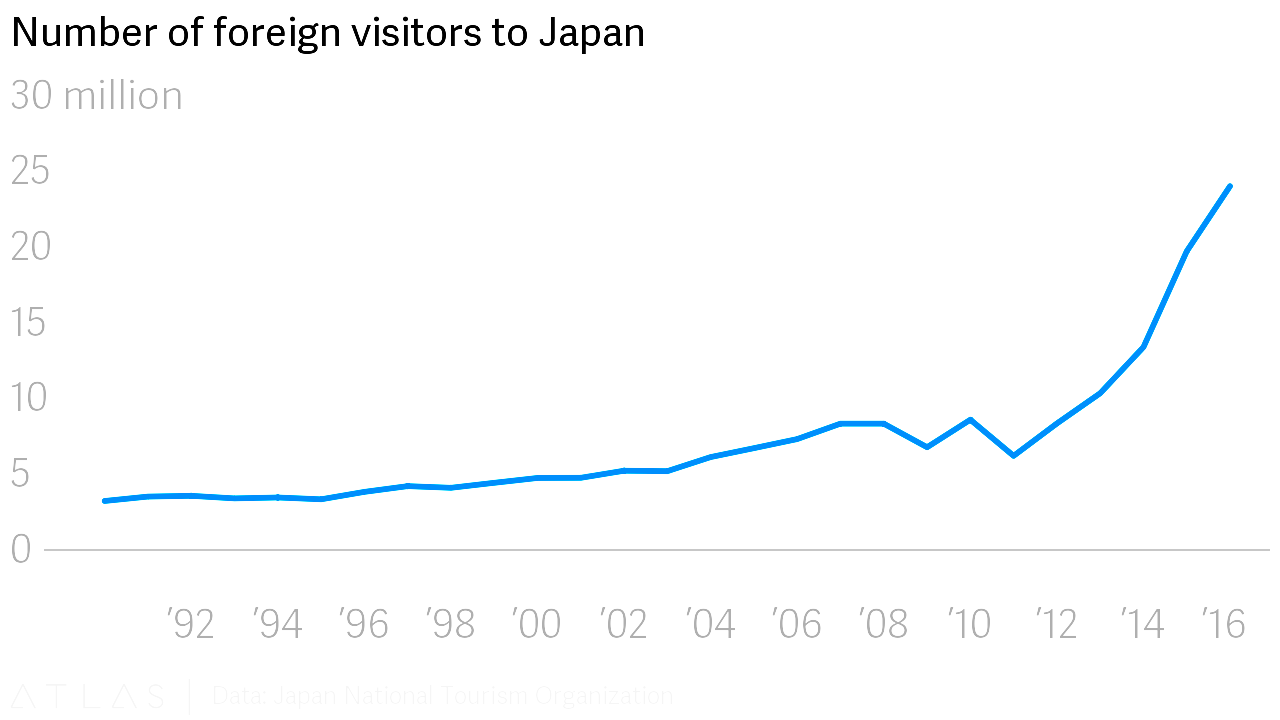 There is little wonder why. Japan is inexpensive, safe, easy to get around, and the snow is second to none. During my most recent trip to Nozawa Onsen, near Nagano, we were regularly getting snowfall of 50 centimetres or more on top of a five-metre base every night. And because the temperatures in Japan stay so low, you'll have soft, dry, fluffy powder to play on all day.
---
Your guide to Japan: where to go
The ski season in Japan offers you a choice of hundreds of ski resorts across the country's four main islands, but the biggest and best are arguably on Honshu and Hokkaido.
Honshu
On the main island of Honshu, the biggest region for ski resorts is the Nagano. Within this region, Hakuba is undoubtedly the most popular skiing destination for Australians, boasting nine resorts, 135 lifts, and over 200 runs — a giant snowy playground!
However if the beaten track is not your thing, there are many other great ski areas within Nagano. If you are after a more traditional Japanese cultural experience, I recommend Nozawa Onsen — an old town full of traditional Japanese buildings and natural hot springs, as well as long wide ski runs, lots of snow covered trees, and a more peaceful, laid back vibe.
Hokkaido
Hokkaido is the northernmost island of Japan, and experiences massive snow falls during its winter season. Niseko Resort, near Sapporo in Hokkaido, is a favourite with Aussies. In fact, you may find it hard pressed to hear anyone speaking Japanese there. Niseko is the place to be if you want skiing with a side of nightlife, as the resort has several funky bars that will keep partying into the wee hours.
If you're an experienced skier or snowboarder staying at Niseko, be sure make a day trip to Rusutsu resort for some more challenging (and less crowded) terrain.
When is Japan's ski season?
The ski season in Japan runs from mid-late December through to late March or early April.
"The earth lay white under the night sky," wrote Yasunari Kawabata in his 1956 novel Snow Country. Japan is famous for its historically significant snowfalls, with some places seeing over 40 feet of snow per year.
There have been warnings from scientists that we should expect these falls to become less common and less heavy in a more volatile climate, but with places like Niseko seeing some of the largest dumps of snow in the world, this is still one of the best locations in the world for experiencing the weightless freedom of powder skiing.
How to get there
Nagano region, Honshu
From Tokyo, the Nagano region is just a one hour journey on the Shinkansen (bullet train). From Narita airport, you will need to get the train to the city, and catch the Shinkansen to Nagano station. From Nagano there are connecting buses to each of the resorts.
Pro tips:
Train travel in Japan is a cultural experience in itself. Enjoy the journey! If it's in your budget, splash out for the first class carriage – it's worth the expense.

The bus system in Nagano operates by paying when you get off, not when you get on. Take a ticket when you board the bus, and then when you get off, the driver will calculate your fare based on how many stops you've travelled. Be sure to carry loose change to pay for your trip.
Hokkaido
Getting to the north island of Hokkaido is a little bit more of a mission, but is well worth it for the guaranteed dumping of powder throughout winter. After flying into Tokyo, you will need to get a connecting flight to Sapporo, and then a long winding bus ride to Niseko. The bus trip can take up to three hours when there is heavy snow, so make sure you bring snacks.
Pro tips:
Use the opportunity of a stop over to spend a couple of days in Tokyo, one of the most exciting and culturally rich cities in the world.

Don't lug your own ski bag – take advantage of the Japanese's impeccably efficient luggage transfer services. Just look for the black cat logo (Yamato), which you'll see all over airports and train stations. This service is cheap and speedy — when I used this on the way to Niseko, my luggage arrived before I did, and was ready waiting for me at my accommodation.
Gear guide for winter in Japan
Japan is cold in winter. And if you're chasing a good run, you'll probably find yourself on a flimsy chair lift in the middle of some serious wind. And if you're not properly prepared, your face, fingers and morale may take a good beating.
When you factor in the wind chill, the temperature at the summit can get down to an epic -30C or so. The biggest tip here is to layer, and layer well. I'm talking multiple layers of technical garments to protect yourself from the elements.
As a start, I bring:
Thermals: top, leggings, and socks

Thick ski socks

Warm mid-layer: merino wool or similar. It wouldn't hurt to double up on these on particularly cold days.

Waterproof shell jacket and pants

Good quality Gore-tex ski gloves, the ones designed for very cold temperatures

Wool beanie, one that covers your ears

Neck/face warmer — I wear a necktube that I can pull up over my mouth and nose. You will see people in full-face masks, if that's your thing

Ski goggles — whilst bluebird days are everyone's favourite, the conditions in Japan are often somewhere between lightly snowing to blizzard. So make sure you have goggles to protect your eyes from the snow and wind, and so that you can see when you're ducking in and out of the trees!

Helmet — because even for the most experienced, collisions do happen.

Of course, your skis or snowboard! Japan's a great place to try powder skis!
Pro tips:
I usually wear a thin pair of wool gloves underneath my ski gloves for added warmth.

Smartphones can shut down when it's very cold. I keep my phone in a plastic zip-lock bag in my ski jacket to protect it from the cold and wet.

Make sure you pack shoes that you can walk through deep snow in for when you're not skiing or riding; rubber-sole hiking or snow boots rather than leather-sole shoes or high heels.

If you don't own your own ski gear yet, you can usually rent it from the resort. However, you should have your warm layers and accessories ready.