Kathmandu ambassadors Alesha and Jarryd are professional photographers, writers and founders of adventure travel blog NOMADasaurus. They've been exploring the world together since 2008, searching for culture and adventure in off-the-beaten-path destinations.
---
There's more to winter than hitting the slopes. Witness the most spectacular landscapes on the planet (and get your hit of adrenaline) with these out-of-the-box winter experiences.
1) Dog Sledding in the Yukon
There's no denying that the most popular winter activities for most travellers in Canada is skiing or snowboarding, but that's not the only reason you should head to the Great White North during the colder months.
Dog sledding has been an integral part of the livelihoods of northern communities for centuries, and now thousands of visitors head to the Yukon every year to experience this exciting activity for themselves.
Huskies were born to pull, and by joining a guided tour you can take part in expeditions that involve a whole team of them charging across the snow and ice for days, towing you and your gear behind on a sled through some of the most spectacular mountain vistas in the world.
Feeling ready for a real challenge, or want to see how the pros do it? Check out the Yukon Quest, a 1000-mile international sled dog race that goes from Fairbanks in Alaska to Whitehorse in the Yukon.
2) Visit the Tsaatan Reindeer Herders in Mongolia
Mongolia in the winter can be quite difficult to travel, due to the frigid temperatures, icy roads and lack of infrastructure. But it also makes the northern part of the country extremely beautiful, and provides easier access to one of the most fascinating minority groups in Asia.
The Tsaatan people on the border of Siberia near Lake Khovsgol are a nomadic tribe of 500 people that rely on their herds of reindeer to survive. During the summer, travellers can visit them by horse trekking through the Boreal Forest for two days, but come winter the Tsaatans come down to lower altitudes – meaning it takes less time to track them.
Fewer tourists travel to Mongolia at this time of year as well, so there's a high likelihood you'll get to see how these amazing tribes live throughout the winter without any other foreigners around.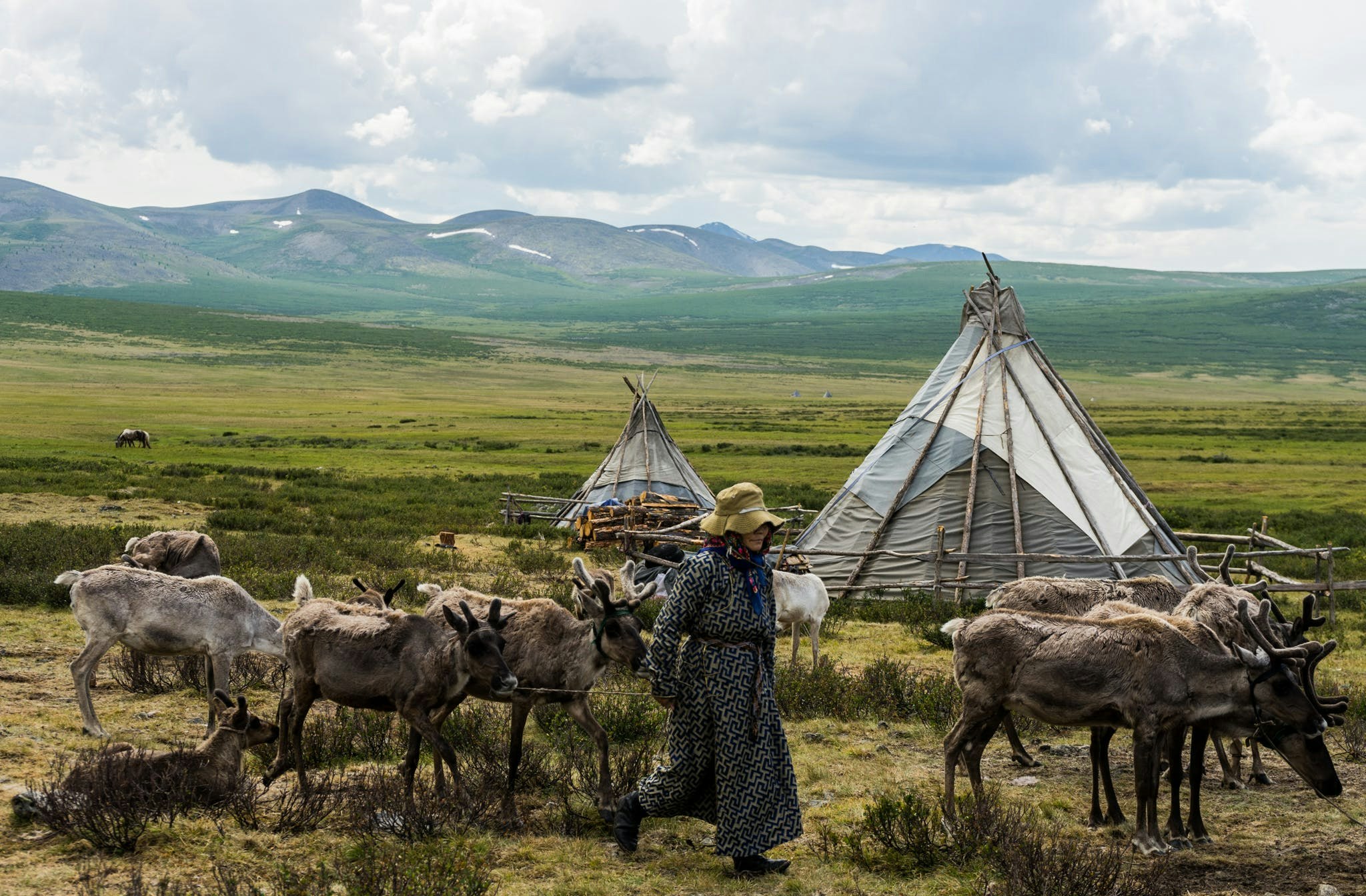 3) Ski Touring in Kyrgyzstan
You might think that the world's most intrepid skiing happens in places like New Zealand, Canada and Switzerland, but have you ever thought of heading to the landlocked Central Asian nation of Kyrgyzstan for a ski trip?
With 93% of the country's terrain being mountainous, Kyrgyzstan is an outdoor adventurer's paradise, with huge glaciers and peaks rising above 7000 metres. While it's been on the map for trekkers and rock climbers for decades, it's only recently that people have been travelling here in winter to check out the snow sports.
Ski touring is growing in popularity, with the Tian Shan and Alay mountain ranges receiving giant snowfall every year. Villages like Jyrgalan in the country's northeast are transforming themselves into a ski hub, with guest houses offering multi-day guided packages including accommodation and food for less than a day pass on Thredbo.
4) Sea Kayaking in Antarctica
While it's near impossible to visit Antarctica in the winter as a tourist, travelling there in the summer offers the kind of experiences and backdrops that you'd expect to find during a full-blown winter expedition.
A trip to Antarctica is always going to be a life-changing event, but those who love adventure can take part in a number of activities. From hiking to camping, ski touring to scuba diving, there's no shortage of things to do there. But our favourite activity is sea kayaking.
Paddling between majestic icebergs with snow mountains and ancient glaciers is a sight to behold, and nowhere else in the world has the kind of dramatic landscapes that Antarctica boasts. But it's the wildlife encounters that will really get your blood pumping.
Curious seals, penguins and even whales often come up to kayakers to check them out, and it's not uncommon to be completely surrounded by an abundance of marine life. At times like this you have to simply stop paddling and soak in every moment.
5) Chasing the Northern Lights in Iceland
Picture long ribbons of green and purple light dancing across a crystal clear sky, with cascading falls tumbling down beneath the backdrop of ancient volcanoes – this is the Aurora Borealis in Iceland!
Catching a glimpse of the Northern Lights is always magnificent, and the experience will stay with you for the rest of your life. But few places offer such a unique landscape to match the beauty of this natural phenomena as this remote island between Norway and Greenland.
The long nights in the winter give the best chance to see the Aurora, so layer up and add Iceland to your bucket list.
6) Fly-In Glacier Hiking on Tasman Glacier, New Zealand
The Tasman Glacier in Aoraki/Mt Cook National Park is one of the most remarkable sights in all of New Zealand, and now it's possible to not only get up close to it, but actually go hiking on it!
The largest glacier in New Zealand is gorgeous year-round, but when it's covered in a fresh blanket of snow surrounded by white peaks, it takes on a whole new level of beauty. Armed with crampons and snowshoes, you board a helicopter from Aoraki/Mt Cook airport to take you right onto the glacier, and this is where the adventure begins.
Go trekking across the glacier, learning more about how these natural wonders are created, and learn about how climate change is affecting their existence around the world. With glaciers disappearing at an alarming rate, now is the time to see them up close and personal, then take action to help protect them for future generations.
7) Snowkiting in Switzerland
Just because the terrain is flat doesn't mean you can't ski! In Switzerland a new sport has been gaining popularity, and now thousands of people travel to the Alps every year to learn what's known as snowkiting.
Like kitesurfing but on land, snowkiting is being towed on a pair of skis or snowboard behind a large sail. It takes a lot of skill to master, but once you get the hang of it you'll be charging across frozen lakes and between glaciated valleys at crazy speeds. Definitely not a winter activity for the faint of heart!