Kathmandu provides quality outdoor gear for travel and adventure that is built to last. Should you not be fully satisfied with our products, please see our return policies and details on how to return below.
Please allow 14 days for us to receive and process your return.
For most items, if you change your mind about your purchase you can return the item or exchange it (subject to stock availability).
Goods must be returned in unused condition, in original packaging (with tags attached) along with proof of purchase and within 60 days of the purchase date.
If you change your mind on an item purchased in-store, you can exchange this for another item (subject to stock availability) or receive a Kathmandu Credit Voucher or a refund (via the original payment method) to the value of the purchased goods.
If you change your mind on an item purchased online, you can receive a full refund of the product price (any delivery charges will not be refunded) or we are happy to offer an exchange (subject to stock availability). We will provide a refund on online orders in the same form as your original payment. View our Returns Policy.
Processing times for exchanges or refunds may take longer during sale periods.
Kathmandu is committed to providing you with quality products. Our gear is thoroughly tested throughout our design process and we stand behind the quality of the products that bear our name. However, in the unlikely event that you have received a damaged, faulty, or incorrect item please Contact us and one of our team members will be ready to assist you by taking you through your available options.
Take the item to any Kathmandu store, along with your proof of purchase.
Please note: Items purchased online via Afterpay, TradeMe and other authorised third party resellers can only be returned via post with your packing slip. Items purchased using PayPal, e-Gift card or credit card may be returned in store or via post with your packing slip.
If your purchase was via eBay, please raise a return request and return via post.
To return an item to Kathmandu by post for refund or exchange, follow the returns procedure on your packing slip or download the Product Returns Form and fill it in. Make sure you include the reason for requesting a refund or exchange. For exchanges, please also specify the size and colour of the replacement items (exchanges are subject to stock availability). Do not include your credit card details on this form or in any correspondence.
To protect your return from damage during delivery, please use strong external packaging. For all returns that relate to a change of mind, postage must be paid for by the sender and will not be refunded. In the case of an exchange, delivery charges for the replacement item will be at Kathmandu's expense. We also recommend you obtain proof of postage to track your return. We take no responsibility for returns lost in the delivery process. You will need to contact your delivery provider to locate your parcel.
Please note: If you have created an online account, your order details can be found in the 'My Orders' section of My Account.
Please send your completed slip or form and item to:
Online Returns
Kathmandu Ltd
PO Box 4399
Hoppers Crossing
Victoria 3029
Australia
Please refer to the below graphic on the correct process to return an item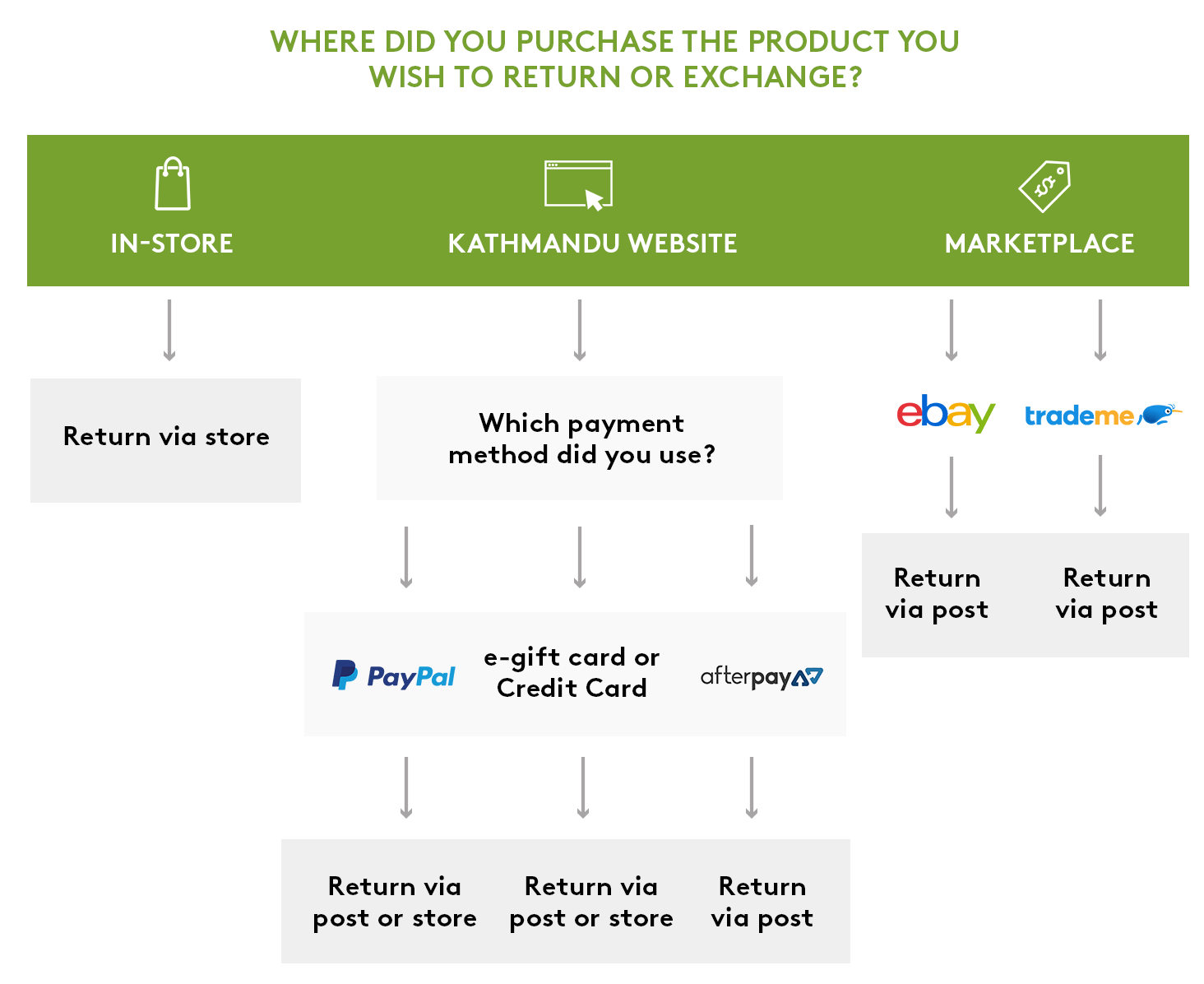 You can return an item by post using any international postal service or courier. We recommend you mark your parcel as 'returned goods' to avoid customs delays.
On international orders, we will not reimburse the cost of return shipping, or accept liability for customs duties or taxes. Please note we do not offer exchanges for international orders. If an alternative product is required, you will have to place a separate order for this.
International returns can take up to 21 business days (excluding weekends and public holidays) for international returns to be received by our warehouse. Please also allow three business days from the date of receipt for your return to be reflected in our system. We will send an email to confirm your refund. It will then take up to 10 business days for the refund to be credited against your original payment method. Refunds may take longer to process during sales periods.
If you return a purchase made by gift card, we will give you a replacement gift card or credit note to the value of the purchased item.
For online purchases that use a combination of payment methods (e.g. gift card and credit card), the value for each tender will be placed against the original payment method, with the balance being refunded to the gift card first.
Kathmandu vouchers or gift cards cannot be exchanged or redeemed for cash or other tenders.
Our returns and exchanges policy
Any rights you have under this policy in relation to your Kathmandu product are additional to any rights you may have under consumer laws.
All change-of-mind refunds are issued at the discretion of Kathmandu. We reserve the right to refuse a refund or exchange for a Change of Mind request if it does not comply with these conditions.
Our change-of-mind policy does not apply to goods sold as 'seconds' or gift cards or NZ DOC Hut Tickets.
For online purchases made as a 'Guest' customer, we are only able to arrange an exchange by creating an 'Online Account'. Unless we are instructed otherwise, we will create an 'Online Account' for all 'Guest' customer exchanges. Alternatively, we can arrange a refund via the original payment method, so that another 'Guest' purchase can be placed independently.
For full details you can read our Returns & Exchanges Policy.