With the ferocity and scale of the Australian bushfires pushing resources to their limits, we have increased our support of the Red Cross Bushfire Disaster response by matching customer donations to reach a goal of $100,000.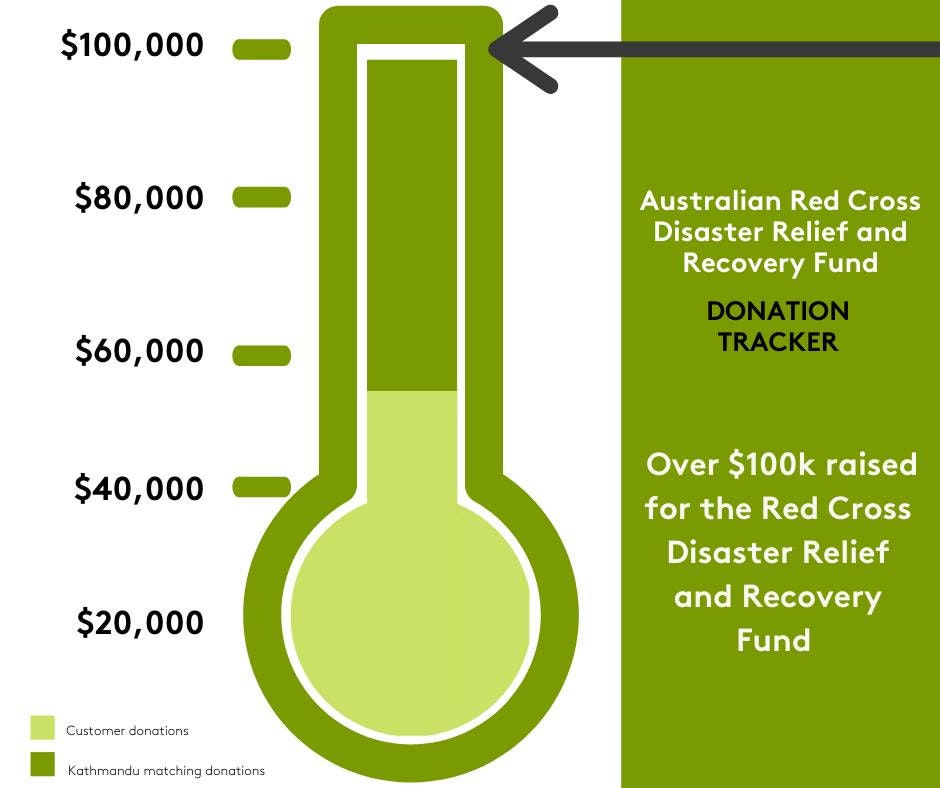 UPDATE: Thanks to your generosity, we have reached our goal of donating $100,00 to the Australian Red Cross Disaster and Relief Fund by matching your donations dollar-for-dollar. We will continue to accept donations in-store and through the below link. Thank you for your support!
Australian communities across the country continue to battle some of the worst bushfire conditions seen since records began, with the scale of the disaster dwarfing that of recent fires seen in the Amazon and in California and smoke from the fires even having reached South America.
"The size and scale of these fires in many parts of Australia is unprecedented," says Belinda Dimovski, Head of Engagement and Support at Australian Red Cross. "But so is the incredible wave of support we've seen from people and businesses around the country and overseas."
Since the Australian bushfires began in late 2019, our customers have been making a valuable contribution to the Red Cross Disaster Relief and Recovery Fund through instore donations.
On top of the additional donations we intend to raise by matching our customers' contributions, we aim to provide Red Cross with gear and products up to a value of $20,000 to aid in the immediate relief of those who find themselves without adequate clothing or sleeping systems in the coming weeks and months.
How your donations make a difference
Your donations to the Australian Red Cross Disaster Relief and Recovery Fund support emergency teams in five ways:
1. Aiding the work of support teams in evacuation centres and recovery hubs.
2. Helping the Red Cross to locate missing loved ones through its Register.Find.Reunite service.
3. Providing emergency grants to those who have lost homes in bushfires to cover their immediate expenses.
4. Recovery support following the fires, including one-on-one support to the community.
5. Preparations and support/training for future bushfire risks.
On top of this vital work, the Red Cross is now working with Government and the Australian Defence Force in logistical support, delivering essentials items like food and water to communities cut off by fires.
"The funds we raise will ensure our trained staff and volunteers can continue to be there for the long-haul, helping people take a deep breath, take stock of their losses, and slowly but surely get back on their feet," Belinda Dimovski says.